Health and beauty center: the beauty farm
The best and most up-to-date techniques in the sector are practiced in this beauty farm in the Gargano, guaranteeing excellent results. A few of the treatments of the many to try are suana, Turkish bath, thermal bath, hydrotherapy, chocotherapy, winetherapy, aromatherapy, face and body massages of all kinds, manicures and pedicures.
In a word, health and beauty. The sauna eliminates toxins and relieves stress, preparing you for the rigours of daily life. High temperatures cause sweating, eliminating water and, with increased sebacious gland function, also toxic substances.
Raising body temperature has beneficial effects on muscles which become relaxed and therefore reduces tension.  In the sauna, metabolic rate and heart beat increase dilating blood vessels and therefore increasing blood flow.  The heat of the sauna also has beneficial effects on sufferers of respiratory complaints, increases muscular healing, has a sedative effect on nerve endings and improves circulation. 
The beauty farm at the Hotel Le Ginestre, one of the best equipped in Puglia, offers an "organic sauna", defined by its cloud of mountain flower scented perfume.
Hydrotherapy is a natural way of ridding the body of stress. Hydrotherapy and massage therapy all in one; the warm water (37/38°) relaxes muscles and improves circulation while cold water has a stimulating toning effect and increases arterial pressure. The bubbles and water flow compress and decompress tissues benefitting both blood and lymphatic circulation, causing a feeling of lightness in the legs, whilst a draining action reduces cellulite. Hydromassage firms muscles and combats obeisity and rheumatism, reduces tiredness, tones and rejuvenates skin.  2 or 3, 20 minute sessions of hydrotherapy are advised per week.
An exfoliating scrub is also advised before entering the jacuzzi. The ideal temperautre for a relaxing bath is between 32 and 37°C and the water pressure should be moderate in order to avoid the breakage of capillaries. For a velvety skin 2 spoons of bicarbonate of soda should be added to the water as well as a few drops of milk, hawthorn, horse chestnut and grapefruit essential oils. To combat celluite essential oil of cypress should be used for its diuretic and anti-inflammatory properties. After a jacuzzi, wrap up in a bathrobe and lie down for 10 minutes in order to allow blood pressure to return to normal, and then moisturise the skin.erfume.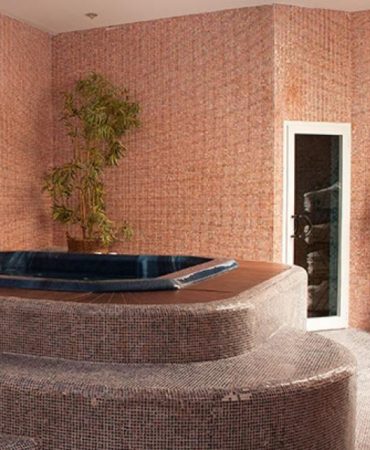 Roman Sudario or sweat room:  the Romans would spend many pleasurable hours in thermal baths; mainly for the benefits of intense perspiration.  The Laconicum – or Roman sweat room, with temperatures between 50 and 55°C and humidity levels at 50% – constitutes an excellent alternative, certainly gentler, to the traditional sauna.  This exclusive beauty farm in the south of Italy has revived the ancient philosophy of the Roman thermal baths.  The heat, radiated from the walls and the benches, gently encourages an intense but pleasurable perspiration which results in natural detoxification.
This treatment, through natural infra-red heat, helps to prevent and improve innumerable malfunctions, especially of the digestive system, the liver and alleviates symptoms of gout.  Suitable for all age groups, a maximum stay of 35 minutes is advised followed by a misted cold shower.  The Caldarium, with temperatures between 44 and 48°C and humidity at 50%, is a hot steam bath and facilitates the ruglarisation of pH levels, hydration and cleansing of the skin.  15 minute rest periods are advised between 15-20 minute sessions at the end of which a misted shower is taken followed by a session in the jacuzzi.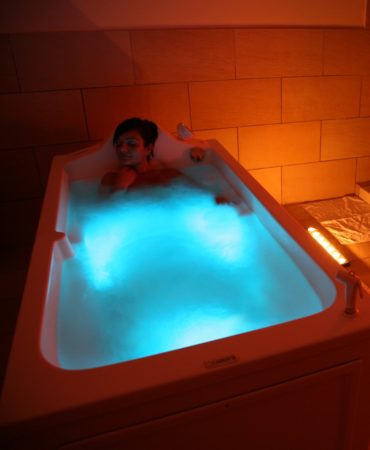 The steam room or Turkish bath, typical of the orient where it is known as Hammam, is a therapy that uses water in the form of steam. In marble surroundings temperatures reach 40/50°C with 100% humidity.
The temperature of the steam is stratified with the lower centimeters being 20/30°C, 40°C at about 1.3 meters and 50°C at head height. Blood vessels dilate and circulation improves enabling the elimination of toxins through abundant sweating.
The Turkish bath is chatacterised by frequent alternating between hot steam and cold showers; this stimulates the body into reaction. Anyone suffering cardiovascular complaints should not take Turkish baths, nor should they be taken on an empty stomach or immediately after meals or alcohol. With warm feet, naked or wrapped in towels, in a comfortable position, the increased temperature will slow down and regularise breathing, causing a sensation of calm and relaxation.  n addition, gently rubbing the skin with a horesehair glove eliminates dead skin cells and stimulates circulation.
It is advisable to refresh oneself from time to time with a cold sponge and to enrich the steam with a few drops of essential oil.
The revitalising Ninfea is a scented nebulised shower and the perfect compliment to a session in the Laconicum or Calidarium. A gentle massage under tiny drops of water imparts an immediate sense of regeneration.  The sensational scents take the mind on a fabulous relaxing journey out of this world.